Driven by data: how AI is transforming the automotive industry
7th February 2023
Driven by data: how AI is transforming the automotive industry
Engines revving, smoke billowing, and they're off… but wait, are they stalling?
The automotive industry now faces some of the most radical disruption in its 126-year history – will it thrive or break down?
This is the first article in our 'Smart Thinking' series - from Co-Founder and Head of Technology Vignesh Chandran – which considers the far-reaching effects of disruption in the technology sector, and how MI, BI and AI is helping all kinds of industries to change in readiness for new business models.
Sales of electric vehicles (EVs) are steadily climbing as fossil fuel prices continue to rise, consumers become more environmentally aware and charging infrastructure (slowly) starts to catch up. Alongside this, post-pandemic car buyers are much more willing to shop online (62% are open to the idea (Statista)) and upcoming regulations from global governments could spell the end of non-EV and hybrid engines.
So where does this leave the many players with operations firmly embedded in the current business model of traditional ICE (Internal Combustion Engines) car sales? We're talking everyone: physical retailers and dealerships such as Sytners and Lookers, newer digital businesses like Cazoo and Cinch (the car leasing and rental businesses which alone accounted for $119.28bn of the market in 2021 (Mordor Intelligence)), and the automotive manufacturers and OEMs (Original Equipment Manufacturers) themselves.
20% of all new cars sold are EV and PHEV (Plug-In Hybrid)
-SMMT Vehicle Data, YTD Nov 2022
Consumers may be ready, but are industry players?
As consumers go greener, expect to see a surplus of ICE vehicles on the forecourts with dealers (and buyers) unsure of their residual values. That's compounded by improved digital platforms slowly but surely dis-intermediating these bricks-and-mortar retailers. In parallel, a steady increase in EV cars being bought on subscription is giving rise to shorter contracts and flipping the current seller-owner model on its head, mirroring the evolution of other technology markets in previous decades.
But as consumer behaviour advances at pace, little has changed structurally in the market – which could become a real problem for many players in the industry. Are manufacturers and retailers ready to make a radical shift, providing subscriptions and servicing? What will happen to the leasing companies who base their financing on car values which are no longer easy to predict? And with far fewer parts that degrade over time on an EV, what role will the OEMs play?   
Rewriting the rules of the road
Disruption breeds doubt. And for the automotive industry, that's particularly wide-ranging:
Pricing: Auto-setting car prices using data has been on the rise for a while. But global disruptions have recently caused several companies to falter, with wildly fluctuating valuations exposing imperfections in the market and current approaches. When online platforms have a buying price higher than their own selling price, you know something's not right.
Residual value: Another complication is Car Residual Value (CRV). The demand for EVs replacing ICE cars puts Guaranteed Future Values (GFVs) at risk. And widely-adopted, affordable Personal Contract Purchase (PCP) contracts simply won't be viable – requiring a rethink.  
Customer data: As online buying grows, so does the volume of consumer data – and our understanding of their needs and behaviour. This is a challenge for organisations who must shift from a traditional product- and asset-centric perspective to a customer-centric view on offers and propositions. Maintaining direct customer relationships by leveraging first-party data in a privacy-preserving way, especially when recommending the right cars to buyers will need to be a core capability.
Vehicle subscription services: This market is still nascent, but financial institutions (such as Lloyds Banking Group), digital retailers, and some manufacturers (Volvo and Jaguar Land Rover) are already seeing early successes. Combined with any consumer concern around EV affordability, charging infrastructure and future values, these shorter and limited ownership contracts make for a very appealing sales proposition. As the trend for both new and used electric cars grows, leasing businesses, retailers and rental companies will need to consider how they retain and maximise their share of the revenue.
Data can play an unrivalled role in helping businesses effectively prepare for and adapt to market disruption. Data-backed decision making can sap the uncertainty out of the market – it's less risky to adapt your business model, pricing or portfolio mix when you can predict the most likely outcome.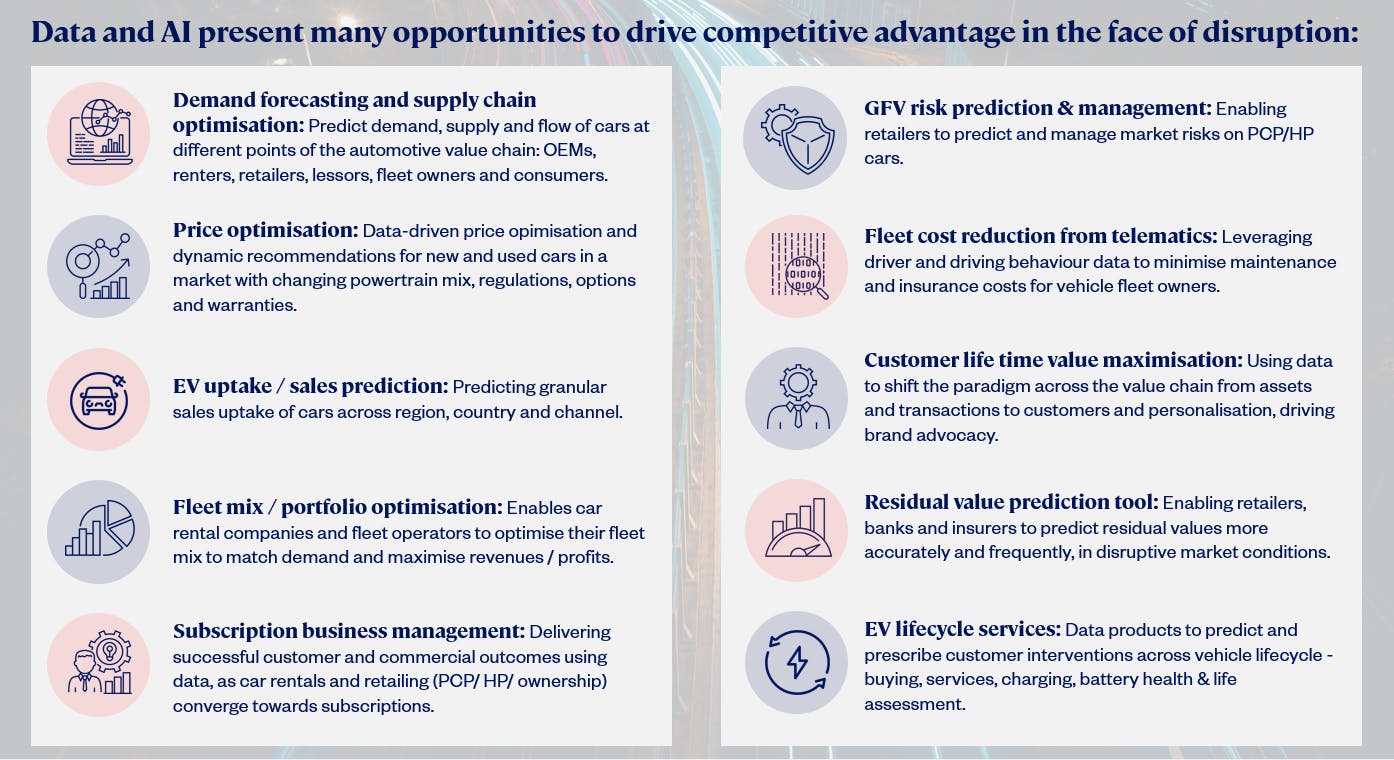 Data can play a big role in modernising the passenger and commercial mobility value chain including areas such as fleet decarbonisation, insurance, retail price optimisation and auto-financing, while also helping businesses shift from offering asset-centric to customer-centric propositions.
The question remains: who will adapt for success in the future of automotive and who will fall by the wayside?
AI in action
Arca Blanca has already supported several automotive clients on this road to transforming their business.    
Client success story 1
Challenge: Arca Blanca partnered with the UK's largest leasing company to use data to refine their customer proposition and optimise operations.
Result: A rapid data maturity assessment highlighting high-priority interventions. Use cases were identified which could deliver £35m+ benefits per annum and a phased roadmap was drawn up to implement the changes.
Client success story 2
Challenge: Arca Blanca was tasked with helping a leading automotive retail group to predict used car residual values to limit the risk arising from agreeing 'Guaranteed Future Value' or GFV contracts with customers and financial institutions.
Result: De-risked £100+m in GFV risks through a multi-country feasibility analysis and roadmap for building an in-house data-based GFV management tool. An minimum viable product that leverages data science techniques to predict residual values three, five or seven years into the future and spans 30+ countries is under development.